How to Speak Arabic
By OptiLingo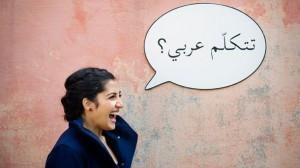 In every language, there are usually differences between the written language and the spoken language. The written language is typically more formal, whereas the spoken language less so. Additionally, reading, writing and speaking all use different parts of the brain, so learning how to speak Arabic is a slightly different process than learning other aspects of the language.
If you haven't already, I strongly suggest that you begin by learning the Arabic alphabet. We have a pretty solid post here on the Arabic alphabet.
Assuming you've already done that, let's talk a little about Arabic sounds. Below is a list of the Arabic alphabet. Again, this post assumes you're already familiar with it, so if you're not, check out those links above now.
ا A  

Alif

بB  

Ba

تT

Ta

ثTha

Theh

ج J    

Jim

حH  

Ha

خKH

Kha

دD  

Dal

ذTH

Dhal

رR  

Ra

زZ  

Za

سS  

Sin

ش   SH  

Shin

ص S  

Sad

ضDa

D'ad

طDH

Dha

ظTha

Dh'a

ع A  

'Ain

غGH  

Ghain

فF  

Feh

قQ  

Qaf

كK  

Kaf

لL  

Lam

مM  

Mim

نN  

Nun

هH  

Ha'a

و   W  

Waw

يY  

Yah
Note that the Arabic alphabet is read from right to left, which is why A is in the upper right hand corner. As you can see, while all the letters look quite different from the English alphabet, several sounds are unique to Arabic.
Sounds that can often by difficult for English speakers to pronounce include the following:
خ KH Kha – The closest any dialect of English comes to this sound is the "ch" sound in "loch" that Scottish speakers would pronounce. The Arabic letter kha is a bit more pronounced and harsher, though.
ذ TH Dhal –  This letter is not so difficult, but requires a bit of explanation. Think of your "thumb". Say the word "thumb" out loud. Now imagine pointing to a group of people and saying "that's them". There is a difference between the "th" sound in "thumb" and "them". The letter Dhal is similar to the "th" sound in the word "them", albeit softer.
ع   A 'Ain – This is one of the most challenging sound for anyone interested in how to speak Arabic. It is wholly unique to Semitic languages, so it's a bit difficult to explain. It might sound silly, but the most effective way I have of teaching this sound is to think of Pee Wee Herman. You know that deep, throaty giggle he makes, "Hi, I'm Pee Wee Herman, huh huh!". That sound he makes with his throaty giggle is pretty close to the letter 'Ain.
Of course, I could go on for pages on how to speak Arabic. There are entire books written about the subject, but I'm going to leave it here for now, and strongly suggest you check out my post on the Arabic alphabet for more.