The Benefits of Being a Multi-Lingual Company
Growth is the main objective of many businesses. The only way for a company scale and achieve success is with the help of its employees. If they are talented and driven, anything is possible. This is why multilingual employees are invaluable to a company's future. Here are some of the benefits of being bilingual in the workplace.
This rings true in-house as much as it does on the client or customer side. Increasingly, this business growth needs to happen with physical, cultural and linguistic help. The ability to connect with potential clients, employees, and suppliers directly is valuable. This attracts top talent to your company. Let's take a look at why language training can be among the most effective tools for doing so.
The Workplace Is More Diverse Than Ever
Having team members that can connect with these clients in their native language can be an essential tool. You can establish long-lasting relations that can broaden the company's horizons. Research shows that the demand for employees with fluency in a second language or multiple languages is on the increase:
9 out of 10 U.S. employers rely on employees with language skills other than English.

56% say their foreign language demand will increase in the next 5 years.

47% state a need for language skills exclusively for the domestic market.

1 in 3 language-dependent U.S. employers report a language skills gap.

1 in 4 U.S. employers lost business due to a lack of language skills.
Companies and their employees can't rely on just English anymore. The international language for business is changing. For the U.S. in particular, there's a problem with recruiting language skilled staff.  Only 20% of U.S. children speak multiple languages, compared to 92% in Europe. It's time to catch up or get left behind! 
Recruitment and Retention
Those who have entered the workforce in the past decade are far more likely to switch jobs every 2-3 years than those of their parents' generation. They're also far more likely to be interested in and capable of obtaining self-employment and remote work.
These factors can make it incredibly difficult not only for companies to recruit top talent, but to keep top talent around once they're on board. Think about the last time you interviewed a candidate. As the interview drew to a close, you may have asked the person sitting across from you if they had any questions for you.
In the modern workplace, the employer may expect more questions than before. Having something epic in your back pocket, like assistance with funding for language training, is going to get attention.
Language training is an incentive. Employees will appreciate the opportunity. It's good for business, and it's good for their career development. This can also attract new talent to the company.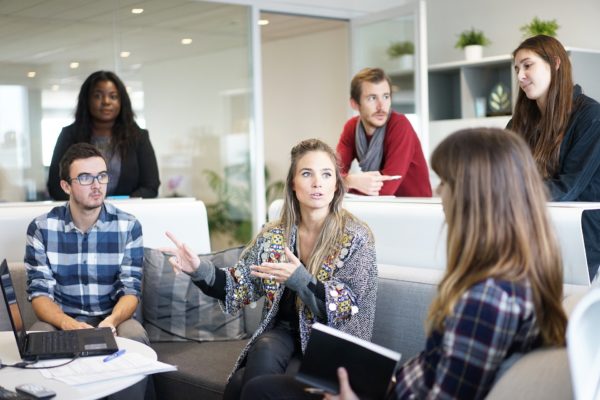 Multilingual Staff Attract International Customers
Having multilingual staff that can reduce potential misunderstandings. It can generate better rapport. Create more trusting relationships with potential clients, customers, or suppliers. 
Business is happening overseas and across international borders more than ever. Companies are interacting in multiple languages on a daily basis. Having staff that can communicate competently in more than one language can be crucial. It could be a deciding factor for potential future clients. It shows that you are committed to them and their business.
That can be very reassuring. The demand for bilingual staff doubled from 2010 to 2015. This shows the globalization of the market perfectly.
Offering language training to your staff is the ultimate way to modernize your corporate culture. You can also be secure and prepared in case of a market shift. Approach language training effectively with these tips:
Analyze your business's language requirements both current and future. Review your staff's current language competencies. Try to improve where it's most needed.

Make learning a language easy for your staff with flexible schedules. Online lessons can also be more comfortable.

Identify a language training school that features immersive lessons.
Invest in Your Employees' Language Learning
Having multilingual staff is invaluable to a business. The benefits of being bilingual in the workplace put your company above your competition. That's why you should help your employees achieve their language learning dreams with OptiLingo.
OptiLingo's Guided Immersion was created from the most effective language learning theories. Leveraging proven learning methods and a user-friendly design, it's the most efficient language learning tool on the market. Achieve fluency faster than ever before. Your company benefits from having bilingual staff in the workplace to drive your business. And your employees receive the joy of language learning.