Using Songs To Learn French
Learning French can be a lot of fun if you use fun methods. And singing yourself to fluency is entirely possible. Music has plenty of benefits for language learning. Find out how the best French songs can help you learn the language faster, and a list of great tunes to get you there.
Why French Songs Are Great to Learn
Music is proven to help you learn. It reduces stress and gives you more focus. But, there are even more benefits to learning French with songs.
Music makes learning fun: It's important to have interesting and engaging language learning classes. And music brings a much-needed funk to your lessons.
Easy to incorporate: Listening to music is a flexible activity. You can do it while you cook, work out, or drive. So, listening to French songs to learn can happen anytime in the day.
Finding the rhythm: Every language has a natural rhythm. And using songs to learn French can help you find the rhythm of the French language. The rhymes and beat of the music will help you reach fluency faster.
Enforce spaced repetition: Spaced repetition is the key to language learning. It's the best method to commit your study materials to memory. Repeating and reviewing your lessons is crucial to learn French. But, repeatedly listening to music is a no brainer. If you like the song and get it stuck in your head, your French lessons are constantly repeating.
Build your vocabulary: You can find new words and phrases and build your French vocabulary using the best songs.
Pronounce French better: Sing yourself to fluency! If you sing your favorite French songs out loud, you can quickly learn to get comfortable with the language. There's no better way to practice your pronunciation than by singing.
Discover French culture: Last but not least, these French songs can help you learn about French culture too. Whether the song is about a famous sight or a lost love, you can definitely get a feel for the French mindset.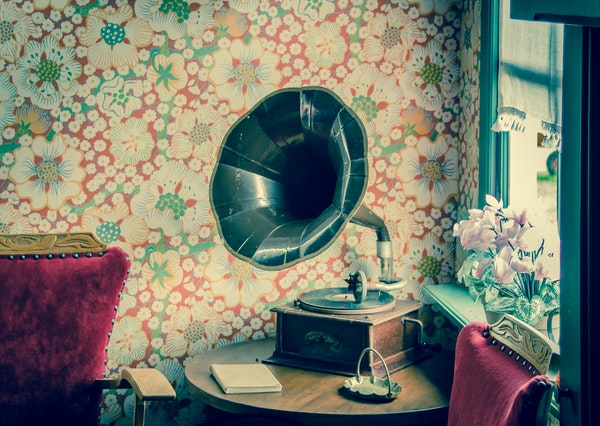 Best Songs To Learn French
These songs are perfect for French beginners and advanced students alike. This list includes various genres, so you'll definitely find a French song you'll enjoy. They're not only melodic, fun, and beautiful, they're also very popular in France. Knowing these by heart is a great icebreaker when you're talking to a French local. Use these great French songs to learn French fast:
1. Papaoutai by Stromae
This is an extremely popular song in both France and Belgium. The pop song features techno elements, and you may find it in clubs and parties. But don't worry, the lyrics are very easy to understand. And the beat also helps with getting this song stuck in your head. Stromae is also the singer of the international hit song "Alors on danse".
2. Champs Élysées by Joe Dassin
This song has a catchy melody, an upbeat rhythm and uses French words that are easy to understand. Intermediate French students instantly understand and recognize about 70% of the lyrics. Plus, it paints an attractive image of the magnificent, iconic, avenue the Champs Élysées. The enchanting beauty and electric energy of the song and the street immerses the listener in French culture and helps them to experience the beauty of this romance language. Enjoy this classic French song with this lyric video:
3. La vie en rose by Edith Piaf
A classic! You must listen to this incredibly famous French song by one of the greatest French singers of all time. Edith Piaf is a symbol of France. If you're learning French, you should definitely listen to her other famous songs, such as "Non, je ne regrette rien".
4. Quelqu'un qui m'a dit by Carla Bruni
The soft, slow rhythm, simple word and clear pronunciation of this catchy song make it perfect for all levels of learners. The song's quintessential café vibe gives people a feeling of being transported to France. Listening to and singing along with this song makes learning French easier and more fun.
5. Sympathique by Pink Martini
This song seems like it came straight out of a French textbook. The song is very easy to understand, and the music video purposefully features French vocabulary with translation. But don't be fooled, this is a genuine song. Make the best of your French lessons by listening to it and watching the music video.
6. Il est temps by Kyo
If you ever wondered what a good French boyband sounded like, Kyo is an excellent choice. "Il est temps" is a pop song about love and relationships. The clear voices can certainly make the song easy to understand, even for beginners. 
7. Dernière Danse by Indila
This song is extremely famous and popular in France. You may come across it at parties or clubs. It's slow enough to easily understand, and the melody is beautiful too. Watch out, this song may get stuck in your head! The beat and passion of the lyrics are infectious.
8. La Vie Ne M'Apprend Rien by Daniel Balavoine
Daniel Balavoine is a French rock legend. Unfortunately, he died well before his time at 33 in a helicopter accident. His soothing voice lives on in this beautiful song.
9. Aussi Libre Que Moi by Calogero
Pop-rock fans can rejoice: Calogero is an excellent French artist in the genre. This song features a nice beat, fun rhythm, and easy lyrics. You may find yourself dancing to this catchy French tune. 
10. La Tribu de Dana by Manau
If you're up for the challenge, try to learn La Tribu de Dana by heart. This French old-school hip-hop song features a lot of rap. Don't worry, with plenty of listens, you can definitely remember the whole lyric, even the fast parts. The catchy tune also helps with that.

How to Learn French Best with Songs
Before you dive into these great French songs, make sure you're doing it right for language learning. Follow these simple steps to maximize your French language learning success:
Read the lyrics: Read the lyrics as you listen to these French songs. This will enhance your reading and listening skills faster.
Look up unfamiliar words: Search for the meaning of new vocabulary. But, if you can, try to guess the meaning of unfamiliar words from context.
Sing French songs: Don't be shy. The best way to reach fluency fast is to speak. And singing is almost the same thing. Don't worry about being on-key either. You're learning French, not competing in X-Factor.
Make it a habit: The more you listen and practice, the better. Spaced repetition and practicing your pronunciation is the best way to reach French fluency fast!
Learn French with More Than Just Songs
As much fun as singing your way to fluency is, you can't learn French with just songs. You need a reliable language learning method. One that gets you speaking from the first lesson. One that gives you useful vocabulary, and never makes you feel like you're learning. And that's exactly what OptiLingo is.
OptiLingo is a language learning app like no other. It actually brings you results. This app gives you high-frequency phrases, so you'll learn exactly how the people speak. And, you'll never even realize you're learning. With built-in spaced repetition, you're guaranteed to remember your lessons. Try OptiLingo today to discover how effective and fast learning French can be!