Telling time is an everyday activity. That's why you need to master the vocabulary and expressions relating to time when you're learning French. Luckily, learning how to tell time in French is fairly easy. Follow our guide to the most useful phrases and words, and you'll progress towards fluency in record time (pun intended).
English vs French: The Differences in Time Logic
There are a few basic differences between telling time in English vs French. Here are the key rules that you need to follow to stay grammatically correct in French:
Time Itself
The French have two different words for time: "l'heure" and "le temps". "L'heure" describes time on the clock, whereas "le temps" is for time as a length. Be careful which one you use in different situations. You can ask "Quelle heure est-il?" for "What time is it?", and say "Les temps sont durs" for "Times are hard".
You Need to Say "Heure"
While saying "o'clock" in English is optional, you always need to say heure after the number if you're telling time in French. The only two exceptions are "midi" (noon), and "minuit" (midnight)
An "H" Instead of a Colon
When the French are writing the time, they put an "h" (for heure) between the hours and minutes. Whereas in English, the same would call for a colon. 2:30 becomes 2h30 in French when you tell the time.
A.M. or P.M.? Neither!
Generally, the French use the 24-hour clock when they're telling the time. However, if they want to use the 12-hour clock, they don't differentiate with a.m. or p.m. Instead, they use the following three expressions after the time:
du matin

: In the morning, until noon.

de l'après-midi

: From noon until 6 p.m.

du soir

: From 6 p.m. until midnight.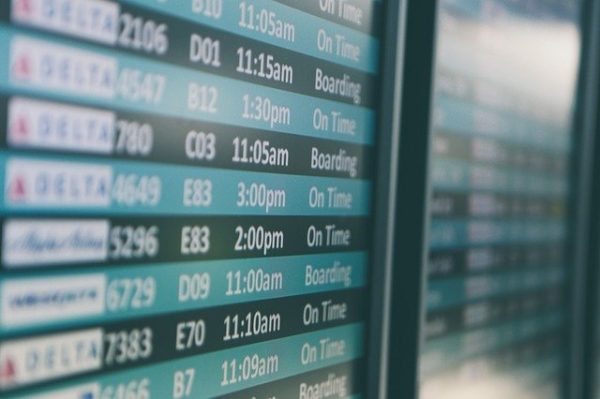 The Basics of Telling Time in French
To start off, here are the key words to telling time in French. These time related expressions are used very often, so they're extremely useful for all language learners:
What Time Is It? – Quelle heure est-il? 
The first step of telling time is, of course, learning French numbers. The following high-frequency phrases are a few examples of what you may hear, when you ask a French person for the time. Study these phrases, and notice the sentence structure and grammar associated with them. Remember this skeleton, and telling time in French will become infinitely easier.
Il est _____ heure (_____).
One thing to look out for is what comes after "heure" when you're telling a specific time within the hour. There may be several different ways to say 3:45 in French. So, make sure you commit all variations to memory.
Il est trois heures et demie

Il est trois heures trente

Il est quatre heures et quart

Il est quatre heures quinze

Il est cinq heures moins le quart

Il est cinq heures moins quinze

Il est quatre heures quarante-cinq

Il est sept heures moins dix

Il est six heures cinquante

Il est six heures du matin

Il est quatre heures de l'après-midi

Il est seize heures

How Do You Ask the Time in French?
These are the most common phrases if you're wondering what time it is in French. Use these to politely ask a stranger, or to strike up a conversation easily. 
Do you have the time, please?

Est-ce que vous avez l'heure, s'il vous plaît ?

What time is the film?

The film is at seven o'clock in the evening.

À quelle heure est le film?

Le film est à sept heures du soir.
Periods of Time in French
If you're talking about periods of time, it's useful to have this French vocabulary. 
Relative Time Expressions in French
These expressions relating to time are extremely useful in conversation. Everyday French doesn't require a large vocabulary. 80% of spoken language comes from 20% of our vocabulary, according to the Pareto Principle. So, focus on high-frequency expressions when you're learning a foreign language. The following words and phrases are especially common, and you'll reach fluency rapidly if you learn them.
the day after, the next day

la semaine passée/dernière

a little while ago, in a little while

ago (

depuis versus il y a

)
Describe a Sunset in French
French is a beautiful, and romantic language. There are expressions of time that become especially beautiful in French. Use this vocabulary to delve into the romantic side of French time expressions.
le crépuscule,

entre chien et loup

French Grammar When Telling Time
Grammar is often boring. It's a repetitive drill that no language learner enjoy. However, with these high-frequency words, you can master the grammar of telling time in French easily. Here are the most important and common prepositions and adverbs you'll need to tell time.
Temporal Prepositions
Temporal Adverbs
| | |
| --- | --- |
| | |
| | |
| | |
| | |
| | |
| | |
| | |
| | |
| | |
| | |
| | |
| | |
| | |
| | |
| | |
| all of a sudden, suddenly | |
| in a little while, a little while ago | |
Frequency in French
These phrases and adverbs are extremely useful when you're speaking French. If you want to reach French fluency fast, make sure you commit these to memory.
Reach French Fluency Fast
You can use this extensive vocabulary to describe everything to do with telling the time in French. But you need much more to reach fluency in French. You need a reliable method, spaced repetition, and high-frequency phrases. And that's exactly what OptiLingo offers.
This language learning app combines the best language learning methods. By showing you common phrases and words, you'll see and learn exactly how everyday French people speak. And then you can speak like a local yourself. Gain impressive and beneficial knowledge with OptiLingo. Try FREE today!