Guide to Regular and Irregular French Adjectives
You use adjectives every day. Whether it's the color of the sky or the size of your house, you need adjectives to talk about them. They're the words you use to describe nouns. For complete French fluency, you need to master the grammar behind French adjectives. Learn when to use them, how to conjugate them, and what exceptions you have to look out for. With this knowledge, you're just a step away from speaking French fluently. Here's everything you need to know about common French adjectives.
French Adjective Conjugation
In English, adjectives don't change. But in French, you need to conjugate adjectives. Since the adjectives describe nouns, they need to fit the noun's characteristics. The best way to start conjugating French adjectives is to take a look at the noun they represent:
Is the noun masculine or feminine?
Is noun singular or plural?
Once you know the gender and the number of the noun, you can conjugate French adjectives by putting the following letters at the end:
| | | |
| --- | --- | --- |
| | | |
| | | |
| | -s | |
Nothing changes with the adjective if the noun is singular and masculine. But, if it's feminine or plural, you need to add the respective letter to the end. This may seem complicated, but you'll get the hang of this fast. Here are some examples to show you how adjective conjugation happens in French:
L'homme intelligent. – The smart man.
La femme intelligente. – The smart woman.
L'hommes intelligents. – The smart men.
La femmes intelligentes. – The smart women.
Notice that in the plural form the adjective and the noun both pick up an extra "s".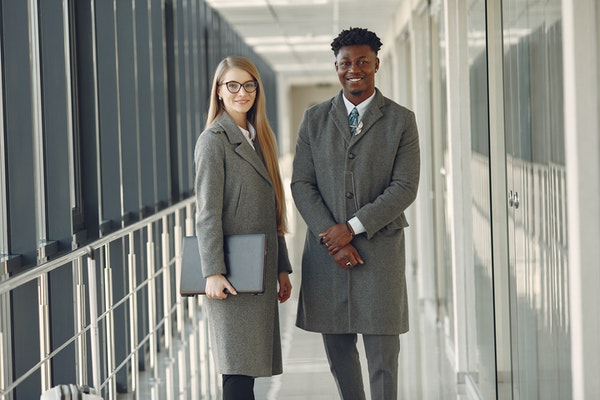 Exceptions to French Adjective Congujation
Although most adjectives behave like this around nouns, there are of course exceptions to every French grammar rule. These are some endings that change form according to the gender of the noun:
Irregular Feminine Adjectives in French
1. Adjectives ending in –eux change to –euse
Un homme heureux. – A happy man.
Une femme heureuse. – A happy woman.
2. For adjectives ending in –é (note the accent) we add another e
Un homme énervé. – An annoyed man.
Une femme énervée. – An annoyed woman.
3. Adjectives ending in -er change to -ère
Un homme cher. – A dear man.
Une femme chère. – A dear woman.
4. Adjectives ending in -f change to -ve
Un homme créatif. – A creative man.
Une femme créative. – A creative woman.
5. Adjectives ending in a silent e don't change
Un homme malade. – A sick man.
Une femme malade. – A sick woman.
Irregular Plural Adjectives in French
1. Adjectives ending in "-s" and "-x" don't change
un chapeau gris (a grey hat) – deux chapeaux gris (two grey hats)
il est vieux (he is old) – ils sont vieux (they are old).
2. Adjectives ending in "-eau" use "-x" for their plural form
un nouveau train (a new train) – deux nouveaux trains (two new trains)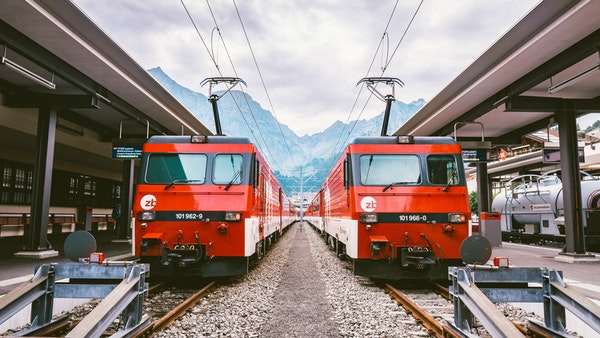 List of Irregular Adjectives in French
There are always exceptions when it comes to French grammar. And it's the same with adjectives. These adjectives are irregular and unbound by rules. When you conjugate them from masculine to feminine, watch out for them. This handy list contains all of the irregular adjectives in French you should be careful with:
Unfortunately, there are three adjectives that are more complex because the masculine version also varies, depending on the beginning of the noun they describe.
Adjective

Masculine

Feminine

Before a consonant

Before a vowel or h

New

Nouveau

Nouvel

Nouvelle

Old

Vieux

Vieil

Vieille

Beautiful

Beau

Bel

Belle
Adjective Placement
In English when you describe something you put the adjective before the noun. However, in French, it's the opposite. Regular adjectives come after the noun in French. That's just the way it works with the word order of adjectives in French. While this seems like a hard thing to get used to, it'll soon become second nature.
Un cheval brun. – A brown horse.
Une fille intelligente. – A smart girl.

Jumeaux identiques – Identical twins.
But, of course, there's an exception to this word order for adjectives too. Some French adjectives just don't play by the rules.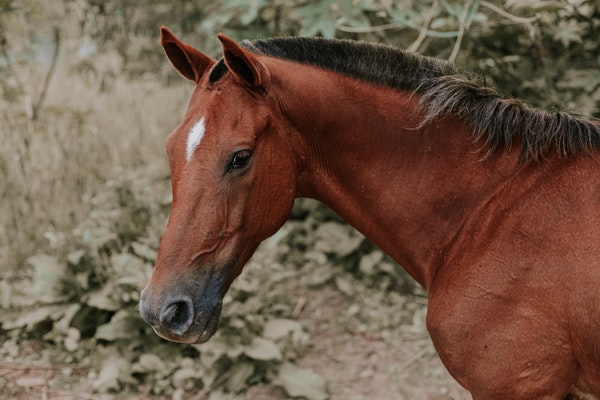 List of French BANGS Adjectives
While regular adjectives come after the noun, certain adjectives in French always come before. We call these French BANGS adjectives, because they all belong to one of these five categories:
Beauty
Age
Number
Goodness
Size
Bangs! This acronym should help you remember the categories. They're very common adjectives, so you'll surely use them in everyday French conversations. This useful list of BANGS adjectives in French can help enhance your vocabulary:
Adjective

Masculine

Feminine

Singular

Plural

Singular

Plural

Beautiful

Beau (Bel)

Beaux

Belle

Belles

Nice

Gentil

Gentils

Gentille

Gentilles

Good

Bon

Bons

Bonne

Bonnes

Bad

Mauvais

Mauvais

Mauvaise

Mauvaises

Better/best

Meilleur

Meilleurs

Meilleure

Meilleures

Dear

Cher

Chers

Chère

Chères

Big/great

Grand

Grands

Grande

Grandes

Young

Jeune

Jeunes

Jeune

Jeunes

Old

Vieux (Vieil)

Vieux

Vieille

Vieilles

New

Nouveau (Nouvel)

Nouveaux

Nouvelle

Nouvelles

Pretty

Joli

Jolis

Jolie

Jolies

Long

Long

Longs

Longue

Longues

Little

Petit

Petits

Petite

Petites
Here are some examples, to show you how the BANGS irregular adjectives work in a sentence:
Un petit garçon. – A small boy.
Une jolie fille. – A pretty girl.
Les gentils hommes. – The nice men.
Les belles femmes. – The beautiful women.
Demonstrative Adjectives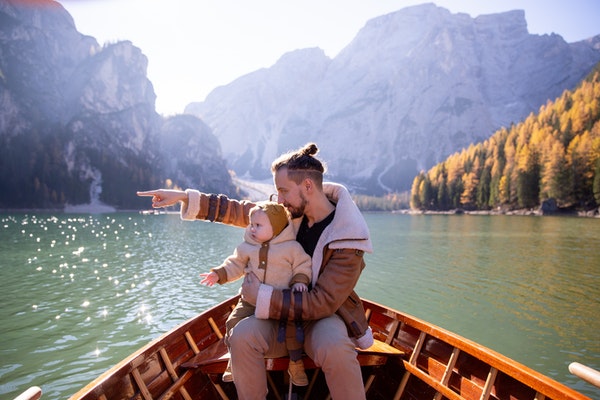 Demonstrative adjectives are used to point to specific objects without naming them: "this," "that," "these," and "those." French uses these as well. "This" and "that" are interchangeable with the words "ce," "cet," and "cette." "These" and "those" are both covered with the word "ces." Demonstrative adjectives always come before the noun. The different forms indicate the gender and the number of the noun they describe.
this
that

these
those
While the singular masculine demonstrative adjective is "ce", if the noun begins with a vowel, it changes to "cet" Here are some examples to show you how to use French demonstrative adjectives in a sentence:
ce bâtiment – this/that building
cet outil – this/that tool
cette montagne – this/that mountain
ces bâtiments – these/those buildings
ces montagnes – these/those mountains
Placing Emphasis on French Demonstrative Adjectives
You can stress the fact that you're pointing to something by adding by adding "-ci" (this/these) or "-là" (that/those) to the noun. This also helps differentiate between the different proximities. If something's close you add "-ci", and if the thing you're pointing out is far, you add "-là".
ce bâtiment-ci – this building
cet outil-ci – this tool
cette montagne-là – that mountain
ces bâtiments-là – those buildings
ces montagnes-ci – these mountains
Comparative Adjectives in French
In English, you either use the words "more (than)" or "less (than)" before a noun, or add "-er" to the end of a word to show how it compares to something else.
In French, the same principle applies. You put "plus" before the adjective to say "more", and "moins" for less. Then, you add "que" (then) to compare it to something else.
plus / moins _____ que
Cette chemise est plus courte que celle que je ports. – This shirt is shorter than the one I'm wearing.
Il est plus têtu que son frère. – He's more stubborn than his brother.
Ce village est moins intéressant que celui que nous avons visité auparavant. – This village is less interesting than the one we visited earlier.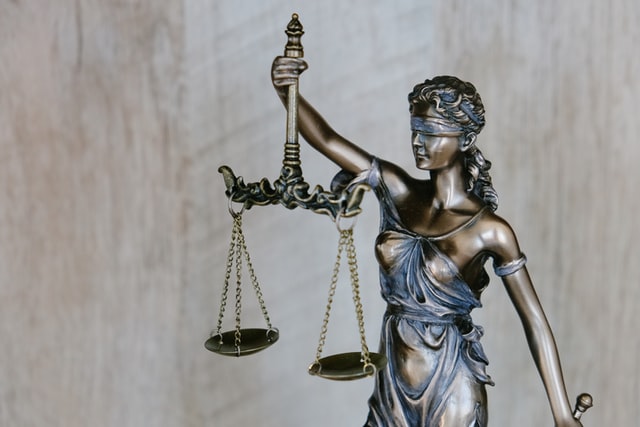 Superlative Adjectives in French
When you had the best ice cream or the worst day of your life, you want to talk about it. And the only way you can do that is with French superlative adjectives. These signal the end of the line on the scale of comparative adjectives. Superlatives in English are "most", "least", or "-est" in English.
Forming superlative adjectives is a little easier in French. After the article, you do the same thing as before with comparative adjectives: add "plus" for more, and "moins" for less before the adjective. But, you don't add the que after.
le/la/les + plus / moins _____
C'était la plus jolie lampe du magasin. – That was the prettiest lamp in the store.
Ma soeur est la personne la plus optimiste que je connaisse. – My sister is the most optimistic person I know.
L'expérience la moins agréable offre une leçon précieuse. – The least pleasant experience offers a valuable lesson.
Les échantillons les plus rares n'étaient pas disponibles au public. – The rarest samples weren't available to the public.
Irregular Comparative and Superlative Adjectives in French
As always, the irregulars. Even with comparative and superlatives adjectives, there are a few exceptions to French adjectives. Luckily, there aren't that many to remember.
meilleur (better, masculine)

meilleure (better, feminine)

le meilleure (best, masculine)

la meilleure (best, feminine)
Learn French Adjectives Naturally
French adjectives are an integral part of grammar. You need to know how to conjugate them to reach French fluency. But, you don't have to memorize them. Learn them naturally with OptiLingo.
OptiLingo is an app that's built on the most effective language learning method. It gives you the most useful French vocabulary, so you learn exactly how local French people speak. By learning them, you can learn French adjectives in their natural environments. To reach French fluency fast without wasting your time download OptiLingo today!