Effectively designed language programs incorporate three main principles into their curriculum, and they're included in the diagram below. This is where all the considerations you made in designing your personalized language program are applied to your Language-Learning plan.
Content and sequencing

Format and presentation

Monitoring and assessment
Content and Sequencing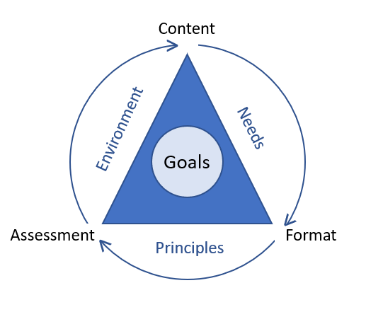 Content and sequencing represent which items you'll learn in a course and the order in which they're presented.
As mentioned, the course length determines how much content you can learn. For instance, if you want to learn tourist vocabulary, you might focus on the 100 most frequently used words, a few different grammar constructions, and a focus on speaking rather than writing in a month-long course.
If you're learning German for business use, you'll need a highly specialized business vocabulary and perhaps a balance between speaking and writing. If you have three months to acquire this balance, those vocabulary words and skills can be divided into learning blocks.
Content and sequencing also cover what items should be learned before others and what items should (and shouldn't) be learned simultaneously. For example, do you know it's much harder to learn near-synonyms or opposites at the same time?
That is, if you try to learn the names of several kinds of fruit or long/short, hot/cold at once, you not only have to learn each word's meaning but ensure you don't think long means short or get confused between apples and melons, making your learning harder.
Another consideration of content and sequence is how you want to divide the time across the Five Factor Framework, which goes back to your goals.
In general:
The items in a language course should be sequenced. That way, items learned together positively affect each other, and interference effects are avoided.

Learners should have repeated and spaced opportunities in various contexts. This way, they retrieve and give attention to items they want to practice.
Classes and apps often use word-frequency lists and other lists of language items or skills. A conversation course, for example, might cover important high-frequency vocabulary and structures, but that doesn't necessarily mean studying vocabulary lists.
You can learn those words just as well in task-based conversation activities, such as pairing learners off with an assignment to discover the other person's family, job, and hobbies.
That's an example of where content meets the format, so let's move on.
Format and Presentation
Here, we look at what teaching activities will be used and what a typical lesson will look like, including the techniques and types of activities used.
In general:
As much time as possible should be spent using and focusing on the target language.

A course should include a roughly

even balance

of meaning-focused input, form-focused instruction, meaning-focused output, and

fluency activities

.

There should be substantial quantities of interesting,

comprehensible activity

in listening and reading.

You should have

repeated and spaced opportunities

in various contexts to retrieve and give attention to items you want to practice.

The course should include instruction in

vocabulary, grammar, and conversation

.

Learning should occur from various resources, including course books, source books, teacher-made materials, movies, music, and materials from newspapers or magazines.

It should be fun, give you a feeling of success, and make you want to learn more!
Determine the amount of time given to learning from listening and reading, learning from speaking and writing, direct study, and fluency development, and see if it aligns with your preferred learning style and goals.
Format
There are a lot of different language learning approaches—styles of instruction, beliefs about what works and what doesn't, instruction techniques, and more. How can you choose the best method for your goals and learning style?
| | | |
| --- | --- | --- |
| Goals | Most Useful | Possibly Less Useful |
| Tourist communication | | |
| Basic conversation | | |
| Basic fluency | | |
| Specific knowledge (for business, education, etc.) | Specialized instruction | Apps, textbooks, generalized classes |
| Advanced fluency | | |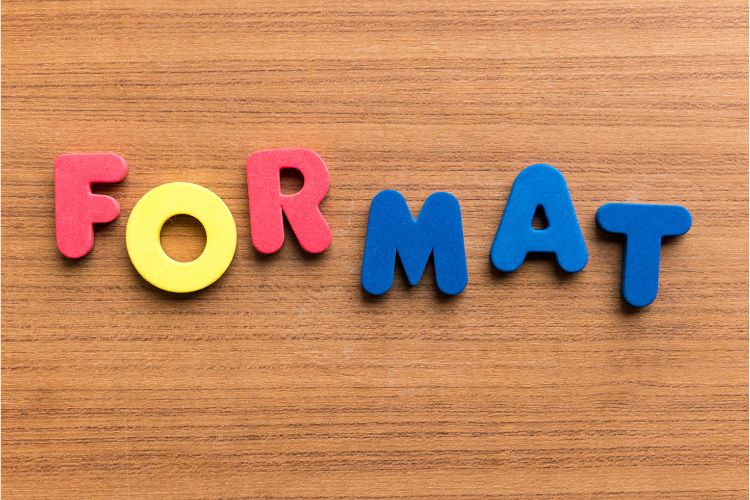 Learning Format

Pros

Cons

Textbooks

Live language class

Established curriculum
Motivation to attend
Opportunities to practice with others
Opportunities to ask questions or for help

Rigid schedule
Nerve-wracking in-person practice
Possible mismatch with teaching style

Remote language class

Same

Recorded language class

Flexible schedule
Ability to stop or slow down at any point
None of the stress of a live classroom

No partners to practice with
No opportunities to ask questions

Language apps

Same, plus

Frequent quizzes
AI repetition

Screen fatigue
No partners to practice with
No opportunities to ask questions
Presentation
There are more teaching techniques and learning activities for language learning than you can shake a stick at. A sense of the continuum of possibilities may help you choose your approach. Here are three different presentation styles.
Monitoring and Assessment
How will you evaluate your progress and know you're on the right track? Teachers and apps use tests and speaking and writing evaluations, but what do you want to track? How will you know you're getting what you want?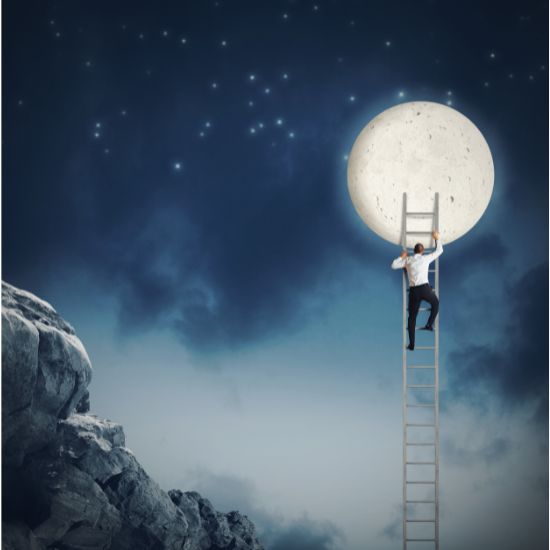 Any language course should help you monitor your learning so you become an effective and independent student.
There are two kinds of tests: proficiency tests, which measure what a learner knows of the language, and achievement tests, which measure what has been learned from a particular course.
Proficiency tests

may be used to measure language knowledge before and after a course.

These before and after tests help you

see how far you've come

and how far you have to go compared to your original goals. They help you determine your next steps.

Achievement tests

are closely related to a course, and the items are based on the content and learning goals of the course.

Short-term achievement tests at the end of each lesson or group of lessons are useful. They help you feel successful and point out areas in which you need repetition. They're also motivating.
But testing is only one way of evaluating your progress. It's important to get feedback and encouragement from teachers or other students who observe your speaking skills. Another way to track your progress is to keep your own learning logs (apps often do this for you).
Finally, it's useful to evaluate the courses that you choose to use. 
Record what you liked, what you didn't like, how much progress you made, and what you wish had been part of them. These observations will help the leaders of the course improve it and will help you determine your next steps.
Putting It All Together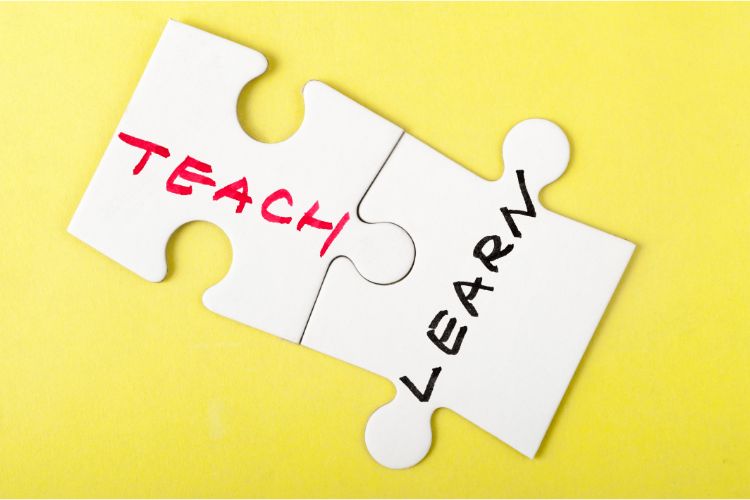 I want to learn enough [target language] to [goals].
My main motivation is ___________________________________.
I have about [# of hours per week] to dedicate over the next [# of months].
In the future, I may continue to learn ___________________________________.
The content that's most important to me is ___________________________________.
Here's how I'll monitor my progress: ___________________________________.
The format that I think would work best for me is ________________________________.
The presentation style I gravitate toward is ___________________________________.
Based on my goals, I think I should look for/start with the following formats:
Books

Apps

Live classes

Remote classes

Recorded classes
My next step toward starting my language-learning journey is to ___________________________________, and I'll take that step by [date].