Learn Korean Quickly With This Year's Top Apps
Language learning has become much easier with technology. When you can access your study materials through mobile apps, you can study from anywhere. Run through your vocab at your dentist. Practice conjugation on your commute. Listen to a podcast at the gym. All of these activities get you closer to foreign language fluency. So, what's is the best app to learn Korean with?
We compiled a list of 10 apps that can help you reach Korean proficiency. You can use these apps on any of your main devices. We recommend you download them all and try them out when you're ready to start learning Korean. That way, you can find out which one works best for you. 
TenguGo Hangul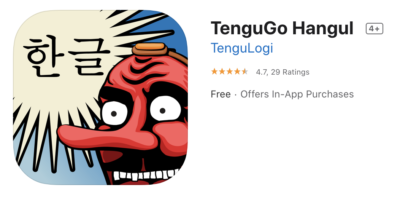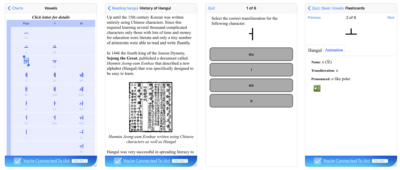 Beginners will enjoy TenguGo Hangul. This app focuses on reading and writing, along with audio aid.  It breaks down the structure of the language quite well. An interesting aspect of this app is that it talks about Hangul's history. Although there isn't a lot of content in this app, the animations can help make learning Korean fun for beginners.
Price: Free + $0.99 – $2.99 contribution
Check out TenguGo Hangul on Apple and Android
Bravo Language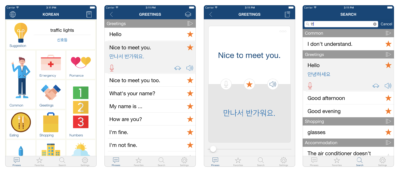 This app is great for vocabulary practice. Neatly sorted into easy categories, Bravo Language gives you high-frequency phrases. You can also record your voice to see if your pronunciation matches Korean. You'll cover some of the most popular words with this one, so you're sure to use the content you learn.
Price: 
Basic: Free
Pro: $4.99
Check out Bravo Language on Apple and Android
OptiLingo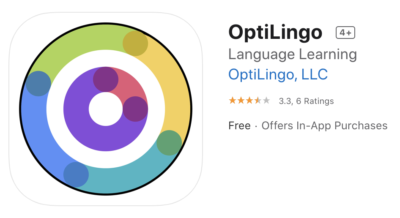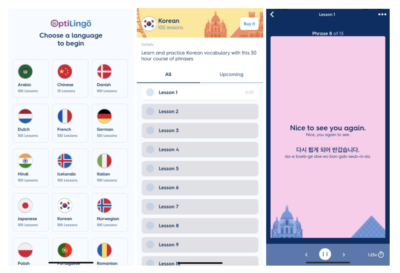 A list of the best apps to learn Korean wouldn't be complete without OptiLingo. OptiLingo offers you a scientifically-backed language learning program. We know that the best way to reach fluency is to focus on speaking, not typing. Giving you high-frequency phrases, OptiLingo can get you speaking like a local. Reach fluency with all the Korean expressions you need. Making it the best app to learn Korean effectively.
Price: From $4.99 per month
Check out OptiLingo on Apple and Android!
Korean by Nemo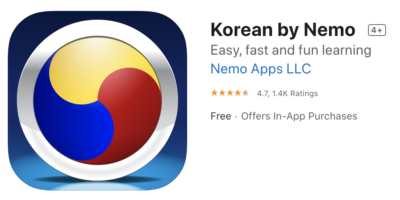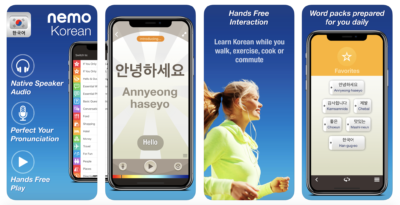 Korean by Nemo features common phrases you can use in everyday situations. This language learning app isn't structured around lessons. Interestingly, you can also download this app on your Apple watch. It doesn't get any more 'on-the-go' than that.
Price: $11.99
Check out Korean by Nemo on Apple and Android
Korlink by Talk to Me in Korean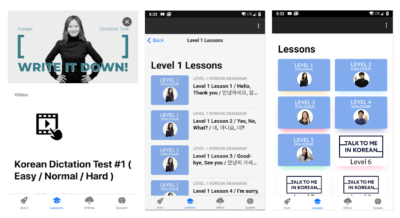 If you're an intermediate Korean learner, Korlink is a great resource for you. You can use YouTube videos as a substitute for your lessons. This app also features podcasts to help your listening exercises. However, it's only available in selected countries and regions.
Price:
Basic: Free
Pro: $2.99
Check out Korlink on Android
HelloTalk Language Exchange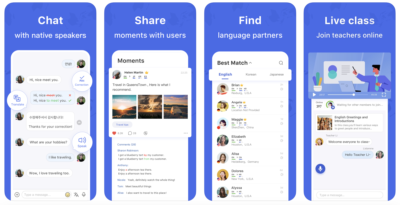 HelloTalk connects you to native Korean instructors. Talking to locals enhances your speaking abilities. They can correct your grammar and pronunciation. And you can also make some great international friends.
Price:
Basic: Free
Pro: $1.99 – $37.99
Check out HelloTalk on Apple and Android
Memrise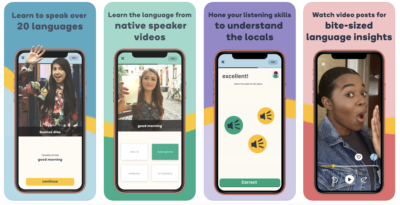 Flashcards can be great when you're trying to memorize vocabulary. And that is exactly what Memrise does. It helps you remember words and common phrases through spaced repetition. It's also very visually pleasing.
Price: $8.99 – $45.99
Check out Memrise on Apple and Android
Topik One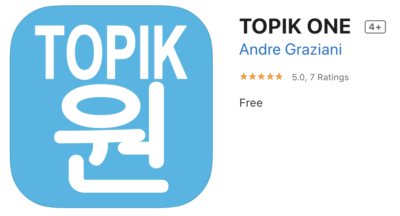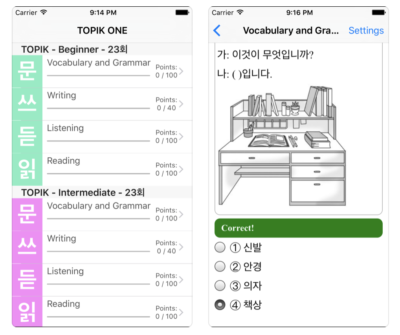 Topik One is great if you're learning Korean for a language exam. This app divides its lessons based on common language exam categories: reading, writing, and listening. A useful resource to calm your nerves before the big day.
Price: Free
Check out Topik One on Android
Dongsa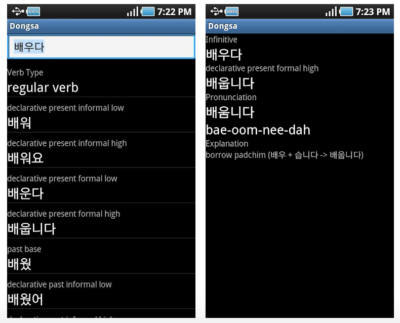 If you're having trouble conjugating Korean verbs, this app is for you. Dongsa (which literally means 'verb' in Korean) is specifically designed to serve as a conjugation aid.
Price: Free
Check out Dongsa on Android
LingoDeer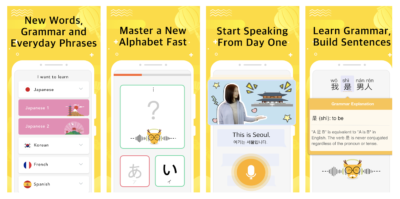 LingoDeer is not only visually pleasing. This app was created by language textbook writers. You can also learn Korean in several languages. Meaning that if you want to learn Chinese and Korean at the same time, you can easily combine them in this app. 
Price: $11.99 – $159.99
Check out LingoDeer on Apple and Android
What the Best Korean App Needs to Have
The best app to learn Korean needs to work. It needs to bring you results. But how do you know if it's a reliable language learning resource? See if your chosen Korean language app has these features:
Features useful vocabulary: You can only progress in learning Korean with an app if you learn useful and relevant vocabulary. High-frequency words are the best language-learning resource, so make sure the app you're using gives it to you.
Has built-in spaced repetition: Spaced repetition is the key to language learning. Periodically reviewing your study materials commits your target language to memory effectively. But, the best app to learn Korean has to have this feature built-in. You shouldn't have to worry about when to study what. Let the best Korean app guide how you learn.
Gives you cultural context: A little extra knowledge about Korea as you're learning Korean never hurts. The best apps feature some cultural knowledge about the country.
Makes you speak: This is crucial. You can never expect a language learning app to make you fluent if it doesn't make you speak. The best way to learn Korean with an app is to practice your speaking skills every day. Refrain from apps that make you type a language, or make the whole journey into a game. You won't actually progress and learn Korean, only waste your time.
Lets you have fun: That being said, it's still important to enjoy your language learning experience. The best app to learn Korean will certainly make you want to come back for more lessons.
Get the Most Out of the Best Korean App
Once you've chosen an app to learn Korean, it's up to you to get the best education. Your motivation and effort can make all the difference in making these Korean apps truly work for you. Here are some steps you can take to maximize your success with the best Korean apps:
Practice every day: Repetition is the key to language learning. With daily practice, you can progress quickly with Korean, and speak fluently quickly. The best app will be fun enough to make you want to come back lesson after lesson.
Make sure you speak: The only way to reach foreign language fluency is to speak the language. And that's exactly what you need to do, even when you're learning Korean with an app. Practice your pronunciation every day to get comfortable with Korean.
Use other resources too: The truth is, even the best Korean apps can't fully teach you the language. The best thing you can do is combine app lessons with reading books, watching films, and singing songs in Korean. That's the best way to have a well-rounded Korean education.
How to Start Speaking Korean Quickly
Whichever of these apps you end up using, it needs to work for you. You need to progress rapidly towards fluency with it. Learn the most common words, so you know how the locals speak. And you need to practice your speaking skills. After all, language is primarily a spoken form of communication. Here at OptiLingo, our goal is to make this a reality for you.
OptiLingo is not only effective, but it's also fun to use. We created a stress-free environment, so you can learn at your own pace, everywhere in the world. Try FREE today!