Korean is an amazing language. Not only is it beautiful, but it's also widely spoken. 75 million people around the world share this language. Learning it could lead to endless opportunities and benefits. But which is the best Korean language program that gets you to fluency fast and effectively?
The following is a comprehensive list of different materials for learning Korean. You can give it a go from the comfort of your home. We also included a list of Korean programs you should stay away from. No matter what your current level is, you can find reliable resources to help you reach fluency in no time. 
10 Best Korean Online Language Courses
90 Day Korean

Price:
The Inner Circle Course (without coaching): $30 per month or $150 per year
With coaching: $47 per month or $247 per year
The 90 Day Korean is a well-structured and intensive Korean language program. Instead of relying on outdated methods, this website features fun classes that get you to understand the language fast. It teaches you Korean through interesting stories. So, even skeptical learners can get something out of their studies.
As the name suggests, this website promises you language comfort in a short amount of time, but it does require a great time investment every day. You'll be able to speak and write Korean after 240 hours. Which means you'll need to spend over 2.5 hours every day on your language studies. If you're looking for an intensive online course, 90 Day Korean is the best language program for that.
KoreanClass101

Price:
Basic: $10 per month ($4 per month for 24 months)
Premium subscription: $25 per month ($10 a month for 24 months)
KoreanClass101 is one of the few courses that use audio podcasts to teach Korean. This means that it's suitable for both beginners and intermediate level learners. These listening resources are not just useful, they're also entertaining. In addition to podcasts, KoreanClass101 also uses PDFs and live conversations to help you grasp the basics of Korean.
OptiLingo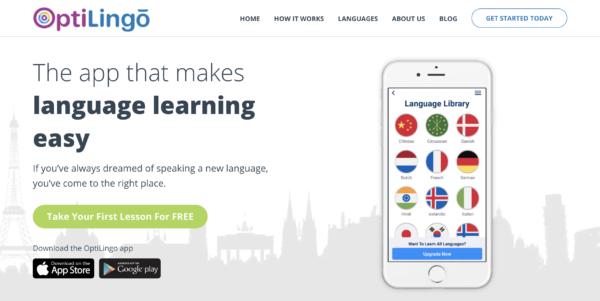 Price:
Premium: $4.99 per month
A list of helpful Korean resources wouldn't be complete without OptiLingo. This scientifically proven language learning program takes you to fluency rapidly. You'll start speaking on the first day. OptiLingo's method has helped thousands of language learners reach proficiency. This proven technique presents high-frequency phrases in a stress-free environment, so you'll know how the natives speak.  This is why OptiLingo is the best Korean language program.
When you're not using the program, OptiLingo's blog offers great content. Discover Korean culture, get tips and tricks for studying, and read about the benefits of language learning.
Talk to Me In Korean
Price:
Basic: Free
Premium: $12.99 per month ($93 per year)
Talk to Me In Korean is a beautiful learning source. Its aesthetic user interface makes it easy to understand for Korean beginners. Talk to Me In Korean offers a detailed learning curriculum for long-term learners.
Their method features a mix of digital resources and physical books. It's also one of the few websites that incorporated social media into their teaching routine. You can learn a lot of slang and colloquial phrases, as well as be introduced to K-drama through their site.
Check out Talk to Me In Korean
italki

Price:
Vary by the teacher, but range from $4 – $60 per hour
italki offers learners a platform to connect with Korean professors. You can choose your tutor and the number of hours you'd like to spend on practicing speaking. This is a great resource to learn Korean directly from natives. Your pronunciation will definitely improve. And you can get personalized help with the language. But every tutor charges a different hourly rate, be aware of that.
Glossika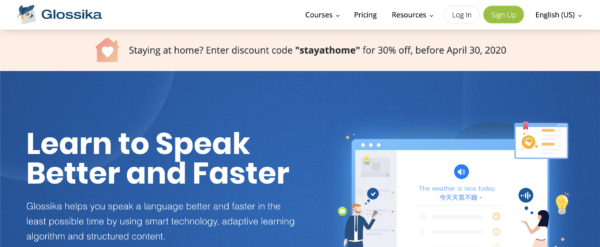 Price:
Monthly: $30 per month
Annually: $24.99 per month
Enterprise: Custom Built
The use of AI in language learning is on the rise. Glossika brings this futuristic technology to a Korean language learning program. The system helps the learner understand words and their meanings. It also gives you examples of when you should use your vocabulary. By introducing you to sentence structures early on, you'll learn them effectively. Glossika also uses spaced repetition in its program.
LingQ

Price:
Premium: $12.99 per month; $11.99 per month (6 months); $8.99 per month (12 months); $7.99 per month (24 months)
Premium Plus: $39.99 per month; $38.99 per month (6 months); $35.99 per month (12 months); $34.99 (24 months)
The best Korean language program is the one where you have the most fun. LingQ features a range of interesting materials. You can choose the topics that interest you, like travel, politics, food, or books. Build your language lessons around subjects that will keep you motivated. LingQ uses Youtube videos, blog posts, and Netflix shows that keep you entertained. This is suitable for beginners and intermediate learners alike.
Pimsleur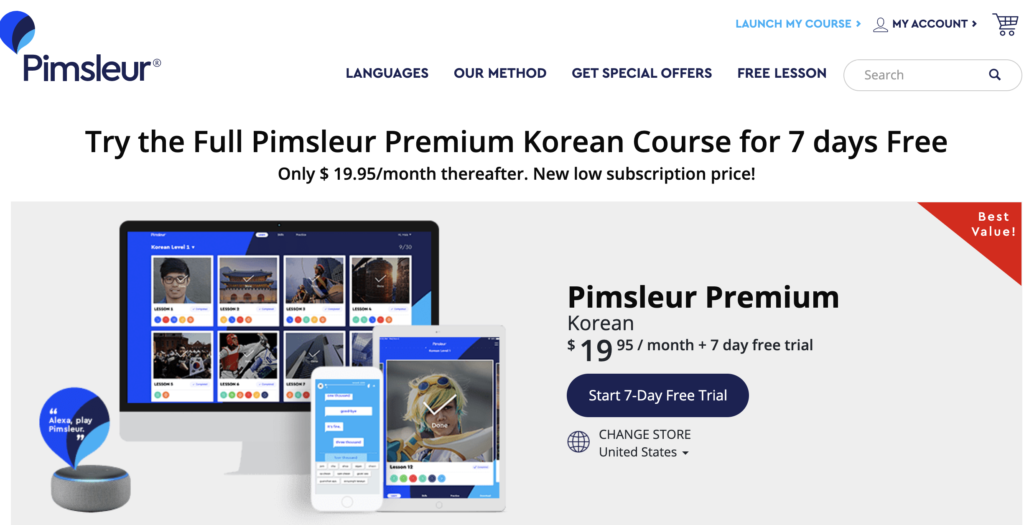 Price: 
Premium: $14.95 – $19.95 per month
If you struggle with pronunciation or you're looking for a handsfree way to learn Korean, then Pimsleur is a good option. It's based on linguist Paul Pimsleur's study and approach to language learning. You'll listen to a series of phrases that get broken down and repeated to you slowly, to reinforce your learning. The downside is that the phrases can be dated and the lessons can feel slow.
Clozemaster Pro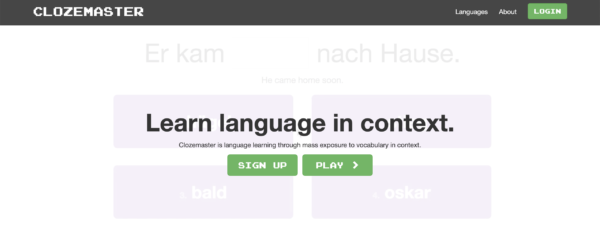 Price:
Basic: Free
Pro: $8 per month ($60 per year)
After learning the basics in the Korean language, the next important stage for any learner is to practice. Clozemaster Pro gives the learner the best environment to sharpen their sentence structures, grammar, and most importantly their choice for vocabulary. That becomes easier when you put it into context. Although Clozemaster is recommended for the more advanced learner, it's a great Korean language learning program nonetheless.
Memrise
Price:
Basic: Free
Pro: $9 per month; $59 per year; $129.99 per lifetime
If you want to learn about how Korean natives speak, Memrise is a great Korean language program. They offer 100s of video clips of Korean locals in their course. This helps familiarize yourself with accents, voices, and culture. You can also use their "mems" to create mnemonic devices that help you remember the words. This can make your vocabulary studies more effective. 
Korean Language Learning Programs to Avoid
Not all Korean courses are created equally. There are a lot of great options out there, but there are also some programs you want to avoid. These popular apps keep people busy but cling to dated teaching practices that can ruin your dream of learning a new language. Use them with caution.
Duolingo
Price: Basic (Free); Pro ($9.99 per month)
While it's probably the most commonly known language learning app, its effectiveness is lacking. The quality of Duolingo's Korean lessons is very low. Essentially, you'll spend most of your time typing the language and translating weird sentences. Duolingo's Korean courses don't emphasize the importance of speaking, so you'll struggle to have conversations even after you put in a lot of time on the platform. It's better than doing nothing, but Duolingo isn't a fast track to speaking Korean fluently.
Transparent Language
Price: $24.95 per month; $149.95 per year
When you're learning a language, endless memorization and boring drills are your enemies. And unfortunately, that's exactly how Transparent Language works. Instead of showing you the context of Korean words, this language learning program gives you isolated vocabulary lists to memorize. It also forgets to teach you about grammar and sentence structure, so your lessons won't get you far.
Rosetta Stone
Price: $79 for 3 months
Rosetta Stone is yet another famous language learning program, but it's built on flawed concepts. The pros of this Korean language learning program is that you hear native Koreans speak. But their sentences are monotonous, boring, and it doesn't cover context. This impacts your learning experience, stalling your progress towards being conversational in Korean. For its steep asking price, it should offer more.
Additional Language Learning Resources
If you want to speak like a local, then you'll want a range of language learning resources outside of online courses. They'll help you change things up, reinforce your lessons, and make learning a new language more enjoyable. Here are a couple of extra tools you should use to help you speak Korean even faster.
Naver Dictionary
Naver is more than a Korean specific dictionary. This website features high-frequency phrases, common expressions, and a collection of sentences to get you speaking as the natives do. Naver also helps you memorize with audio files and images. In addition, you can use Naver Dictionary to give you daily vocabulary. This can be helpful if you're on a specific timeline to learn Korean. 
YouTube
YouTube is a great resource when it comes to language learning. Even the best Korean language learning programs can benefit some additional video material. There are a number of great channels for you to choose from. You can listen to native Korean vloggers, and pay attention to their facial expressions as you watch their content. And you can even learn more about culture, slang, and other tips that will help get you speaking like a local. 
Anki
Many language learners swear by Anki for helping them review vocabulary words. Anki is essentially spaced repetition flashcard software. You can either download completed decks of cards or make your own. As you review the cards, the deck will adjust when you see the cards again based on how easy they are for you. You'll see harder cards more often, easier cards less often.
Forvo
If you want to know how to pronounce specific words in Korean, Forvo is the best Korean language program for that. This website features pronunciation guides to help you reach fluency. They also include common phrases and useful travel expressions.  Home to more than 2.6 million users, Forvo is a reliable source for foreign language diction. Speaking like a native won't be a problem with this. Their large database also features a multitude of other languages apart from Korean.
What Makes the Best Korean Language Course?
There are right ways and wrong ways to learn a language. You don't have to stick to one method. In fact, we encourage you to try as many resources as you can to learn Korean. But there are some ways of learning that will slow you down and prevent you from reaching your dream of learning a new language. 
1. It Avoids Memorization
How many times have you seen a toddle memorizing vocabulary words? They don't. It's not effective. You want a program that immerses you in a new language and guides you to fluency. Not one that tries to cram random words in your brain using fake internet points and games. 
2. It Covers Korean Grammar Effectively
Grammar has a purpose and a place in learning any language. And you'll need to understand how Korean grammar differs from English, especially with concepts like honorifics, mood, tense, and aspects for verbs. Not to mention, Korean's subject-object-verb (SVO) word order is different, too. All of these concepts are important. 
BUT. You need to approach grammar the right way…
You need to choose programs that guide you through grammar naturally, covering new concepts without obsessing over it. After all, mastering grammar isn't the main purpose of learning a language. Speaking is. 
Ineffective Korean software or programs will overemphasis it, prioritizing grammar over speaking. All that will do is cause you headaches. You want programs that prioritize speaking while introducing grammar in a natural, pain-free way.
3. It Explains the Korean Writing System
One of the largest challenges facing Korean language learners is its unique writing system. And you'll need more than flashcards to get you there. Reaching fluency quickly means covering all 4 domains of a language: Reading, Writing, Speaking, and Listening. 
That means if you're going to learn Korean, your software or program needs to cover the writing system. Otherwise, you're missing a vital part of the language.
4. It Covers Honorifics in Korean
You don't always need to use the most polite forms of words when speaking in Korean. And yet, many programs only teach you how to use formal Korean. If you want to speak like a local, you need a program that lets you know when and how to use Honorifics and when you can keep things conversational.
5. It Teaches Using Comprehensible Input
Comprehensible input is the goldilocks zone of language learning. Material is not too hard, so you can understand it. And it's not too easy, so you don't get bored. Any effective Korean course is going to give you enough new material along with the right support, helping you glide into fluency easily.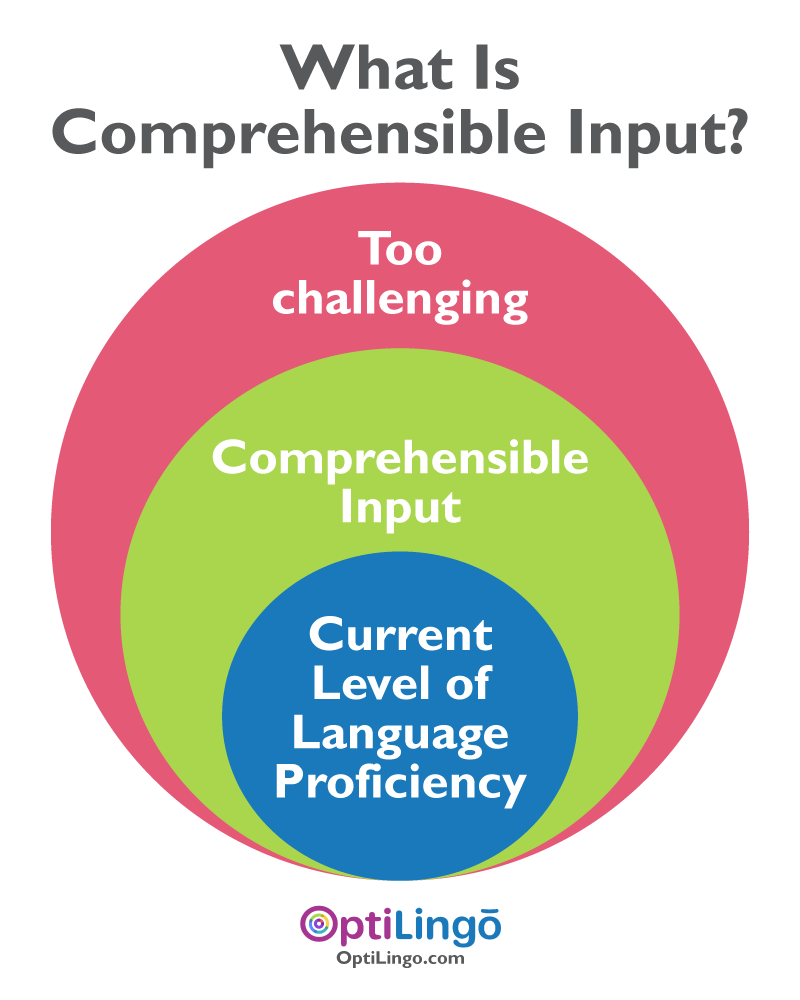 6. It Focuses on High-Frequency Words and Phrases
You don't need to know every word to speak Korean like a local. In fact, most of us only use about 20% of our language on the daily. So, don't waste your time with programs that cover way too much. You need words and phrases you're going to use. The best Korean courses focus on what you need to get by, so you start speaking faster.
What's the Best Way to Learn Korean?
Ultimately, there is no "one-true-way" to learn Korean. And you don't need to book a flight to Seoul to start speaking like a local. With the right Korean courses, you can immerse yourself effectively right at home. There are a lot of great resources online that you can use to reach fluency. Don't settle for just one. Experiment with them all and see which ones work best for you. 
But remember: using the best language learning programs is crucial for your success. Make sure you choose resources that have been proven effective. Many traditional language learning methods are outdated. Don't use any course that focuses on cramming, memorization, or flashcards. And avoid ones that distract you with fake internet points. Make sure whatever program you choose uses comprehensible input, spaced repetition, and high-frequency phrases to guide on your dream of speaking a new language.