You Need to Know a Few Japanese Phrases
Japan is a tourist hot spot. And a lot of Japanese people speak English. But, not all. So, if you want to make sure you can communicate with all Japanese people you meet, you need to know at least a few phrases. Or have them in your pocket in case you need them. These 50 basic Japanese phrases are the perfect sentences for any traveler.
Speaking a little Japanese can get you further than you think. Even with these sentences, you can ask for directions, get better opportunities, and show that you appreciate Japanese culture. Japanese people will definitely appreciate your effort, and they'll probably give you better customer service. Discover Japan better than normal tourists, and see this beautiful country through the eyes of its locals.
50 Common Japanese Phrases
Common Phrases (in English)

Common Phrases (in Japanese)

おはようございます (ohayougozaimasu)

ありがとうございます (arigatougozaimasu)

お元気ですか? (o genki desu ka)

はい、元気です。あなたは?

(hai, genki desu. anata wa?)

お名前はなんですか? (o-namae wa nan desu ka)

… だ (… da) (informal)

…です (… desu) (formal)

出身はどこですか?

(Shusshin wa doko desu ka?)

どちらからですか

(Dochira kara desu ka?) – (formal)

~出身です(… shusshin desu)

私は~出身です(watashi wa … shusshin desu)

わからない (wakaranai) – informal

わかりません (wakarimasen) – formal

わかります (wakarimasu)

わかる (wakaru) informal

わかりません (wakarimasen) – formal

わからない (wakaranai) – informal

もう一度、言ってください (mō ichido, itte kudasai)

英語はできますか (Eigo wa dekimasu ka?)

ゆっくり話してください (yukkuri hanashite kudasai)

トイレはどこですか (toire wa doko desu ka?)

警察を呼んでください!

(keisatsu o yonde kudasai!)

お誕生日おめでとうございます

(otanjōbi omedetō gozaimasu)

Sorry, I didn't understand that

すみません。分かりませんでした

(sumimasen. wakarimasen deshita)

なんて言いましたか

(nan te iimashita ka?)

これはどういう意味ですか

(kore wa dōiu imi desu ka)

There's a problem in the room

その部屋の中に問題があります

(sono heya no naka ni mondai ga arimasu)

The air conditioner is too noisy

エアコンがうるさすぎます

(eakon ga urusasugimasu)

他の部屋へ移れますか

(hoka no heya e utsuremasu ka?)

私は菜食主義者です

(watashi wa saishokushugisha desu)

あなたがいなくて寂しいです (anata ga inakute sabishī desu)

迷ってしまいました。 (Mayotte shimai mashita)

Johnを探しています。(John wo sagashite imasu.)

ちょっと待ってください。(Chotto matte kudasai.)

お手伝いしましょうか?(Otetsudai shimashouka?)

最近どうですか?(Saikin dou desuka?)

変わりないです。(Kawari nai desu.)

元気です。/ まあまあです。(Genki desu. / maa-maa desu.)

手伝ってくれますか?(Tetsudatte kuremasuka?)

日本語で話しましょう (nihongo de hanashimashou)
The Trick to Reaching Japanese Fluency Fast
These 50 phrases are the perfect start to speaking Japanese. That's because they're very common. Japanese people use them every day. And Japanese locals don't actually use a lot of their vocabulary.
In fact, they only use 20% of the words they know for 80% of their conversations.
It's called the Pareto Principle, and it's the trick you need to use to become fluent in Japanese fast. By focusing on only the most common Japanese words and phrases, you can cut your study time significantly, and still partake in most conversations with locals. Less study time, more benefits.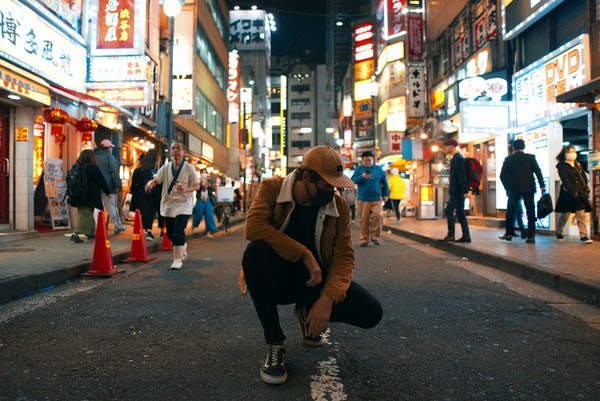 How to Learn Useful Japanese Phrases
You could always have these 50 survival Japanes phrases on a piece of paper. But, if you want to really impress people, you should definitely learn them. Luckily, it's not difficult at all to master these. Here are a few tricks that can help you commit Japanese words and phrases to memory.
Space them out

: don't try to learn all 50 phrases at once. Learn 5-10 every day instead. You won't overwhelm yourself, and you'll

remember more the next day

.

Review them often

: of course, by the time you wake up the next day, you'll have forgotten most of your lesson. No worries, just repeat them. Then again the next day. The more you review, the more you'll remember.

Say them out loud

: You need to

speak to reach fluency

. So, with these Japanese phrases, the more you say them when you practice, the more comfortable you'll be. By the time you'll have to say them to a Japanese local, you'll be confident.
Learn More Japanese Easily
These 50 phrases will definitely help you as you're traveling Japan. And, who knows? Maybe you'll fall in love with the people and the culture, and you'll continue learning Japanese. If so, you need the most useful Japanese phrases to get you to fluency fast. Much like these ones. You can find them all on OptiLingo.
OptiLingo helps you get to Japanese fluency the fastest. This app won't waste your time with unnecessary vocabulary. With guided pronunciation practice, OptiLingo can surely help you communicate with locals effortlessly. Achieve your dream of speaking Japanese by downloading OptiLingo!