The German ABC
Learning the alphabet is one of your first steps to German fluency. Luckily, German letters will look very familiar. They're all Latin letters, just like English. And there are only a few new characters you have to get familiar with. We'll show you examples, how to pronounce German letters, and dive into the intriguing special characters. Here's everything you need to know about the German ABCs.
How Many Letters Are There in the German Alphabet?
Well, it depends where you are. If you're in Germany, you'd probably say there are 30 letters in the German alphabet. By counting the umlauts and the sharfes S as full-fledged letters, they add 4 more to the usual 26 Latin letters. But, in Switzerland and Liechtenstein, there is no sharfes S. So, they would say there are only 29 letters in the German alphabet.
The Letters of the German Alphabet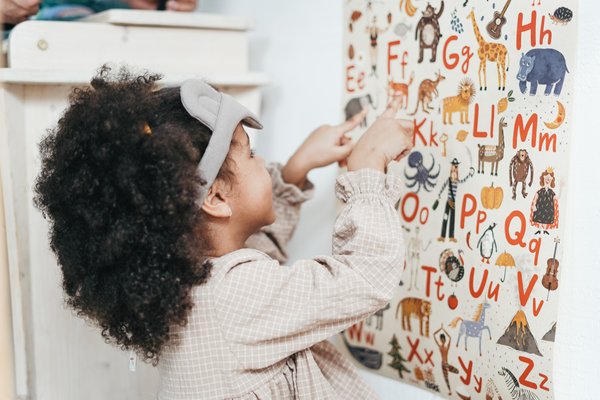 Here are all the basic letters of the German alphabet. While at first glance this list looks exactly the same as the English alphabet, the pronunciations are different. Make sure you check out how you say German letters through the examples next to them.
| | | |
| --- | --- | --- |
| German letter | Pronunciation | Example |
| A | Ah | Abend (evening) |
| B | Beh | Bett (bed) |
| C | Tseh | Celcius (celsius) |
| D | Deh | danke (thank you) |
| E | Eh | Entschuldigung (excuse me) |
| F | Eff | Fleisch (meat) |
| G | Geh | gut (good) |
| H | Hah | hallo (hello) |
| I | Ih | ich (I) |
| J | Yott | ja (yes) |
| K | Kah | kalt (cold) |
| L | Ell | lange (long) |
| M | Emm | Mutter (mother) |
| N | Enn | nein (no) |
| O | Oh | Opa (granpa) |
| P | Peh | Papa (dad) |
| Q | Kuh | Quiz (quiz) |
| R | Err | rot (red) |
| S | Ess | Salz (salt) |
| T | Teh | Ticket (ticket) |
| U | Uh | unten downstairs) |
| V | Fau | Vater (father) |
| W | Veh | willkommen (welcome) |
| X | Iks | Xylophon (xylophone) |
| Y | Ypsilon | Yoga (yoga) |
| Z | Tzett | Zebra (zebra) |
Extra Letters in the German Alphabet
Alongside the standard letters you have just learnt, the German alphabet has four extra letters. Ä, Ö and Ü are called "umlauts" and sound very similar to A, O and U, but they are formed in the front of your mouth and thus have a sharper sound.
The letter "β" is called "sharfes S" or "eszett". Although it often gets mistakes for a "b", it"s actually a double "s". This "ss" sound is very common in German, and you'll definitely encounter it a lot throughout your studies.
The sharfes S only exists in Germany and Austria. Switzerland and Lichtenstein don't use this ligature. But, even in Germany, more and more words are written with "ss" instead of "β". While the "β" is colloquial, you can use "ss" and still be grammatically correct.
| | | |
| --- | --- | --- |
| German letter | English sound | Example |
| Ä | cat | Mädchen (girl) |
| Ö | turn | schön (nice) |
| Ü | cuisine | über (above) |
| β | chess | Ich heiβe (I am called) |

How Do You Pronounce Special German Letters?
Of course, the most special letters in the German alphabet are Ä, Ö, Ü, and β. But, there are a few differences in pronunciation for certain letters as well. You can easily master German pronunciation if you keep these rules in mind:
C: ts, it's the same sound as "z".
G: always a hard "g"
I: more like the English "e"
J: soft "j", like "yak"
S: sometimes it's like the English "s", but very often it's more like the English "z" (the only exception is when the "s" is followed by either a "p" or a "t". Then, the pronunciation is the same as "sch" or "sh": Stadt (city), später (later))
V: "v" in German is always pronounce
W: this is more like the English "v" in pronunciation. It's a hard "v", not a double "u"
Z: always ts, the same as "c"
Beyond the single letters, there are letter combination in German that are always pronounced a certain way. Keep these in mind when you're speaking or reading German out loud:
ei: pronounced like "ay"
ie: pronounced as a long "ee"
eu: pronounced like "oy"
sch: pronounced as "sh"
ch: a throaty "h"
If you see these letter combinations in German, they're always pronounced like this.
How to Learn the German ABC
The first step of learning German is getting familiar with its alphabet. So, you have to learn this part of the language right, because it affects the rest of your studies. If you're familiar with all the letters and their pronunciations, reading, writing, and speaking German will be much easier. Here are a few tricks you can use to learn the German alphabet effectively:
Use Spaced Repetition: Reviewing your lessons helps commit them to your long term memory. That's the trick called spaced repetition. After reading through all the German letters, do it again a few days later. And then again. Periodically coming back to review is best practice if you want to reach fluency and keep that knowledge.
Think of Mnemonics: We've given you a few examples of the German letters in the table above. But, of course, there are plenty more words in the German language. Associate the letters with a word that starts with the same letter. You'll learn the German alphabet much faster.
Sing Songs: Speaking is the only way to reach fluency. So, having an alphabet song is the best way to remember this lesson. You sing, pronounce the words, and understand the letters easier. And if the melody gets stuck in your head, you also practice spaced repetition. Here's a nice German alphabet song you can sing to learn it:
Reach German Fluency
To reach German fluency easily, you need a reliable language learning method. One that introduces you to useful vocabulary, explains grammar, and makes you speak the language. And that's exactly what OptiLingo is.
OptiLingo is the best app to learn German. It teaches you exactly how the locals speak. By giving you only the most useful and essential German phrases, you won't waste time. Instead, your German knowledge will skyrocket, and you'll reach fluency much faster than anyone else. Learn German with confidence when you download OptiLingo!