The Italian Appreciation of Art and Cinema
By OptiLingo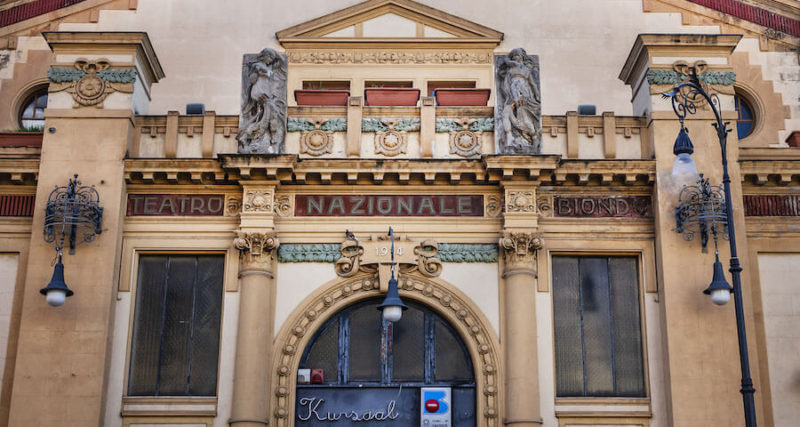 How Important Is Cinema in Italian Society?
Before you begin working your way to foreign language fluency, it helps to understand the culture behind the language you're learning. After all, language exists to help a group of people express their ideas and beliefs. Italy is an old country with a rich history and culture. As you begin your Italian language program, gaining a strong grasp on this history, the values, and the etiquette will help you rapidly achieve success. In particular, Italians have a great appreciation for high culture and fine arts.
An Extensive Effect on Cinema
All foreign films screened in Italy are dubbed over in Italian rather than subtitled. But Italy has its own rich film tradition—the Venice Film Festival held in August and September is the oldest in the world, founded in 1932. The "Leone d'oro" (Golden Lion) is the highest award at the festival as well as one of international cinema's most sought-after prizes. Italian film director Sergio Leone made Clint Eastwood famous with his "spaghetti westerns," which he developed in Rome's Cinecittà film studios.
Italian film directors and actors have achieved success both at home and abroad since the advent of the industry in the early 1900s. Movies from Italy have received the Academy Award for Best Foreign Language Film 14 times as of 2017 (more than any other country,) and have taken home the highest French Cannes Film Festival award, the Palme d'Or, 12 times (of which Italy is only beat by the United States, with 18 total awards).
The Italian film industry spearheaded one of the first cinematic avant-garde movements, Italian Futurism, in the late 1910s. This decade was marked by complex set designs, lavish costumes, and high budgets. Many Italian films from this time were based on previous theatrical productions and books. After taking a small dip in the 1920s, the Italian film industry gained momentum again in the 1930s with the introduction of sound in movies. This era saw the birth of "Telefoni Bianchi" (white telephones), an Italian genre of comedy films that imitated the tropes of American comedies of the time.
The Art Lover's Wonderland
Italy is home to around seventy state museums, as well as innumerable churches, each of which seems to have its own masterpieces. Florence is considered the birthplace of the Renaissance, so it's no wonder that Italian churches, palaces, and museums are decorated with beautiful paintings and sculptures from that time. Museums in Italy typically keep their doors open to visitors through the weekend, but are usually closed on Mondays. This is actually relatively common in many major US cities, but you will want to check each museum before you go to make sure they are open on the day you plan to go.
Don't be put off by thinking that popular destinations are overrated. The Vatican City's large crowds and long lines might seem like a test of patience, but the breathtaking sight of the "Cappella Sistina" (Sistine Chapel) is worth the wait. The "Gallerie dell'Accademia" is a prestigious gallery of Venetian Renaissance art and an essential destination for all travelers to Venice. But don't discredit visiting sights in smaller towns, as there are many beautiful cathedrals and works of art outside Venice, Florence, and Rome. Visit small locales in Padua, Siena, and Pisa to discover a wealth of tucked-away gems. After all, there were many masters in Italy during the Renaissance, and seeing their works is possible in most cities.
Some sights, such as the beautiful natural landscape gardens at Villa Borghese, need to be booked ahead of time. Make sure to take extra care in dressing to see masterpieces in churches and holy places—no shorts or sleeveless tops. Also, be mindful of what day and time you visit: don't wander around looking at artwork while a service is in progress, or you may be asked to leave.
For Love of the Theater
The birthplace of great opera composers Verdi and Puccini, as well as playwrights Pirandello and Dario Fo, Italy has no shortage of opera houses and theaters. The most famous Italian opera house is La Scala in Milan. Opera season run from December to June, then opera houses and theaters shut their doors for the summer. Entertainment moves outside in the summer, along with festivals, feasting, and celebration. Operas and plays are performed in open-air theaters during summer festivals.
The most impressive outdoor theater in Italy is the Arena di Verona, a traditional Roman amphitheater built in 30 A.D. It was designed to seat 30,000 people, although maximum attendance is now 15,000 for safety reasons. It is dwarfed by the Roman Colosseum, which seated 55,000 spectators for gladiatorial battles in ancient times, but the today guided tours are the only entertainment going on at the colossal amphitheater.
Music performances and festivals are also popular in Italy. Outside the "Palacco Ducale" (Doge's Palace) in Venice, sellers dressed in eighteenth-century costumes hand out fliers advertising Venetian baroque music performances in the city's concert halls. The flamboyant costumes give this gimmick away as an obvious tourist trap, but the music is usually artfully played, making for an enjoyable evening diversion, even if it is a bit touristy.
The "Festival dei Due Mondi" (the Festival of Two Worlds), is a two-week music festival in Spoleto that begins in late June and continues into July. The "Festival della Canzone Italiana" (Italian song festival) takes place in Sanremo in February and is the Italian equivalent to the Grammy or Brit awards.