Effective Way of Learning Chinese Language
By OptiLingo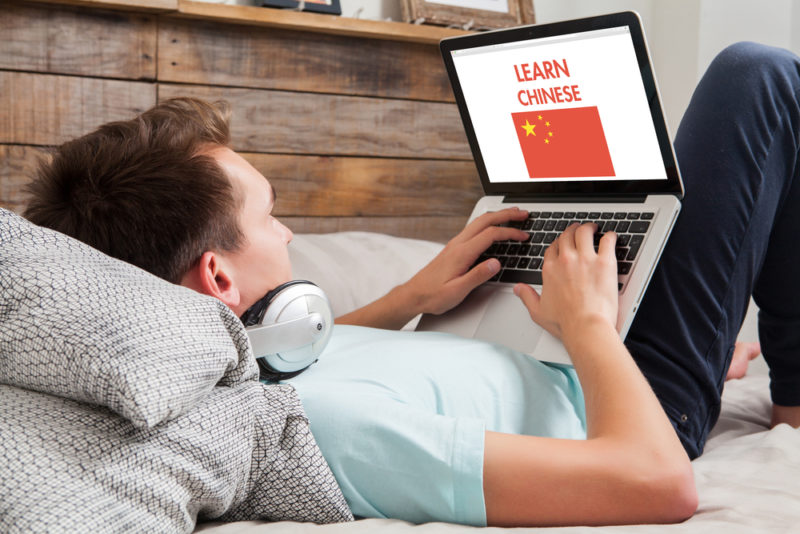 China is attracting business from around the globe and students also flee to China for study purposes. However, one cannot interact easily if he/she does not know the Chinese language. In such cases, it becomes mandatory to learn the Chinese language. But how to learn Chinese language fast is the question that prevails.
So, now you must be wondering: "what is the quickest way to learn Chinese?" or "how can I learn Chinese language easily?" There is an easiest way of learning Chinese. Most prominent of those steps and techniques are discussed below which will help you to get a general perspective of learning the Chinese language.
Now you can learn Chinese super fast by following these guidelines:-
1. Search for Basic Things:
Practice is the only shortcut towards perfection. Even a Chinese saying tells that more preparation will help you succeed faster than anything. Therefore, the best way to learn Chinese quickly is by doing some self-research about the language. Many videos, blogs, and articles are available on internet which tells about the history and general working and rules the language requires. This will give you an overall view of your targeted language. It would also tell you about different forms of Chinese language, their difference, the one you want to learn and your ultimate goals regarding that language. This is an easy way to learn Chinese language. These things will provide you the clear image of the Chinese language and will make you learn Chinese super fast.
2. Develop a Firm Basis:
Some people only want to learn the part of Chinese language which is comprised of only greetings and functional parts. It is easy to learn, but this technique will not help you in the long run. If you want to communicate with Chinese in a proper manner then you need to do some hard work and develop a strong foundation. An easy way to learn Chinese language is to living amongst Chinese people and taking up few short Chinese language courses will give you a helping hand.
If you wonder how can I learn Chinese language easily? Then focus on your pronunciation, tone, initials and spelling rules is essential. Detailed guides about Chinese pronunciation are also available. The easiest way of learning Chinese is to get accustomed with Chinese characters as they are very important in proceeding to advanced levels of Chinese learning. Total of four Chinese characters exists in Chinese. Distinguishing between homonyms, sometimes, become difficult, but eventually, practice makes you good at grasping such particulars.
Develop a logical net of Keywords and Main Points:
Whenever you hear about keywords, grammar peeps into mind. Language, in fact, is all about grammar. The fastest way to learn Chinese is to grasp its grammar. Many people find grammar challenging to learn, but Chinese grammar is not as difficult as it seems so. Unlike other languages, tense as well as gender remains same. Moreover, when you trace grammatical structures, try to give them a shape of keywords.
This method is the best way to learn Chinese quickly and saves many efforts and problems. You can further link all the keywords and can set them in a logical order. In this way, a whole network will be formed that will help you to learn Chinese super-fast.
Develop a Sharp Learning Method:
How to learn Chinese language fast is the question that rests with the learner. It is up to him whatever method the learner wants to adapt and is comfortable with. Most commonly there are two main methods of learning a language. One is self-learning, and the other is hiring a tutor for guidance. However, before choosing any one of these, you must know about the tools and strategies which are used in respective methods.
• Self-learning
If you think about how to learn Chinese really fast on your own, first of all, collect authentic material from genuine resources. Make sure the content you are using for learning is not very technical as it may confuse you. The fastest way to learn to speak Chinese is through the Internet. Online libraries also carry a lot of material, courses and even whole lots of books. Amazon provides you with advanced level books which you can buy and seek guidance from.
• Hiring a Tutor
You can seek help directly from a tutor is an easy way of learning Chinese. In this regards, you can either join a Chinese language learning school or can get an online tutor. The later one is more suitable as it saves you from daily visits to language centers. However, on the other hand, language centers are preferably better because face to face interaction and communication is the fastest way to learn Chinese.
Surround yourself with a suitable language environment
A language is basically a social tool which means its essence lies in communication and interaction. Therefore, the quickest way to learn Chinese is that the targeted language must be incorporated in all four communication skills i.e., reading, writing, listening and speaking. Try to find such social surroundings where the Chinese language could be used in all four forms.
Living a Chinese life is an easy way of learning Chinese. It helps you in getting yourself immersed with the language. Try to spend quite some time in China amongst Chinese people. Interact with them and make Chinese friends. Solution to how to learn Chinese really fast is to use lots of Chinese terms and greet people in Chinese.
Search for some Chinese music and Chinese movies. Watch Chinese news channels. The more you come across it, more you will be its master.
More frequent use of Chinese Language
Most people hesitate to speak Chinese language in outdoor social settings. Fear of being wrong restricts them from using targeted language with native speakers.
Language cannot be learned properly if not used openly. Therefore, the fastest way to learn to speak Chinese is to use it as much as you can. Not only speaking but writing is equally concerned. Using language in written form will help you learn its adequate organization. Moreover, listening and reading can also contribute to the desired results. Many people living in China for many years can only speak one or two words. That is because they have never practiced it. From this, you can trace out the importance of using targeted language on a daily basis and more frequently.
Work on your Weak Points and Practical Points
Go for either HSK or HSKK. Both are Chinese language tests and help you evaluate your progress and grasp on the Chinese language. All four skills, reading, listening, writing and speaking are checked via HSK. Results are determined objectively, and weaknesses are highlighted clearly. Working on those loopholes can actually mend them. This will make you learn Chinese super-fast.
Moreover, the quickest way to learn Chinese is that parts which are often used in conversations must also be focused. You can keenly study registers of particular fields.
So, now you need to stop wondering "what is the quickest way to learn Chinese?" and just start working towards it!